Brushless Permanent Magnet Motor Design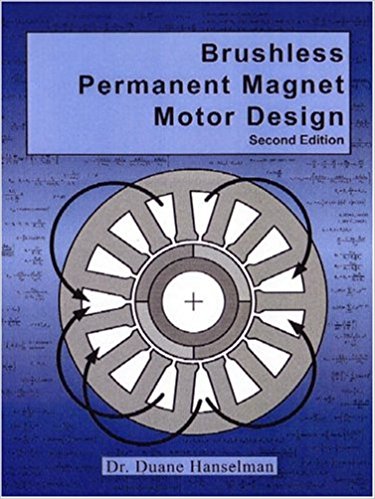 Publisher:
McGraw-Hill Inc. 1994
This is a very good introductory book written by Dr. Hanselman. It starts by explaining all basic concepts of electrical machine design and thoroughly leads the reader towards complete analytical design equations for radial flux as well as dual axial flux topologies.
---
To my surprise, the local library at the Mälardalen University Sweden has a copy of the first edition of Hanselman's book about brushless permanent-magnet motor design. One of the advantages to be situated in electric motor town Västerås! The book states that it contains "Everything you need to know to design tomorrow's most popular motor today!". With the increasing cost of rare-earth materials, I'm not convinced that permanent-magnet motors are still the most popular choice for all kind of applications. Nevertheless, this does not make Hanselman's book less valuable, especially considering that there is an updated second edition from 2006.
Hanselman is very careful to thoroughly introduce all terms and concepts used in electric motor design, which makes this book an interesting read if you're rather new to the topic. Based on analytical equations, Hanselman then derives complete design equations for radial flux surface-mounted permanent-magnet motor designs, as well as for the dual axial flux motor. If you plan to design axial flux electrical machines, this might be a valuable resource that is not easily found in other machine design books. Hanselman's book concludes with a chapter on different motor drive schemes.
About the author
Dr. Hanselman works at the faculty of Electrical and Computer Engineering at the University of Maine, USA.
---
Read our other book reviews